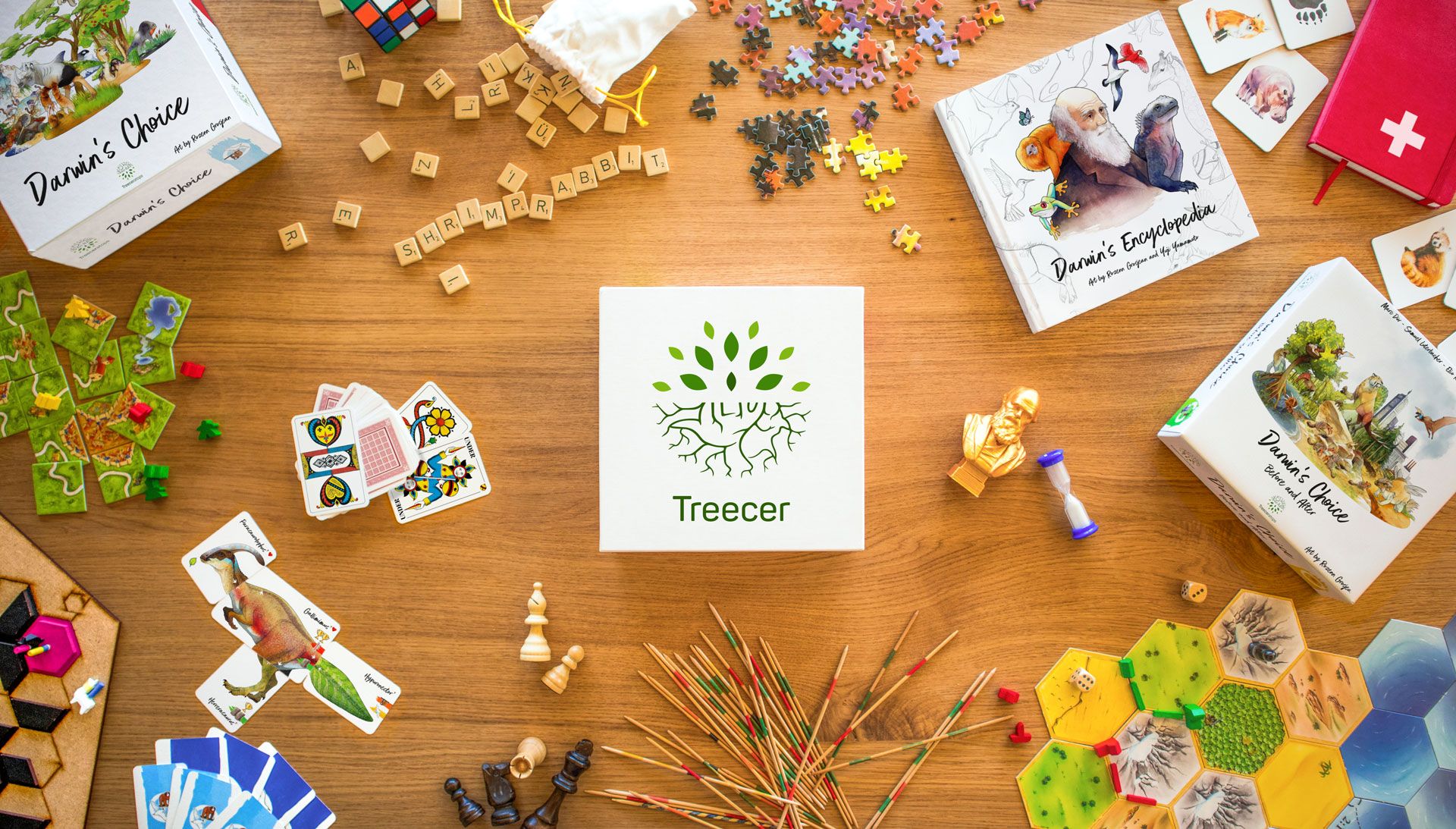 News
Week 27: Production Update / Important Questions and 1 Announcement
07. June 2021
Summary
All rulebooks can be found HERE.
Production should be finished in the beginning of July. We are only waiting for gray board, everything else would be here :P
We would like to launch our next KS campaign for a jigsaw puzzle/art poster campaign on June 22th and want to hear your opinion on this.
And I also have two small price related questions in the end of the update :)
Soundtrack of the Week: The Mandalorian Soundtrack
Hi Everyone,
This week we have some important things to look at together, so let us start right away with the update 😊
First of all a small thing to start with, all rulebooks are now available online on our website (HERE). We now have 10 rulebooks with 12 languages. Thanks again to all translators and proofreaders without you this would be impossible!
Then to the production: Last week I announced you that we cannot finish the production of P'achakuna on time due to shortage of raw material (caused by Covid). Today I talked again with Ludofact our manufacturer. At the moment it looks like the production will be finished at the beginning of July, i.e. finally one month later than expected (beginning of June was planned). The "thing" is that we are actually only waiting for the gray board for the punchboards, everything else is already here/finished, i.e. everything with paper is printed, all wooden components are made, all bags/lamas are sewn etc. so we are only waiting for one single component. Neither we nor Ludofact can do anything about it and there is only one thing left for us to do, wait. I will keep you posted of course and for those who cannot wait for P'achakuna at all, do not forget we have two digital versions, i.e. here on STEAM or on TABLETOPIA. Thank you for your understanding! Covid just makes producing a really nerve-wracking affair at the moment. I am so much looking forward to "normality" when I will again be able to order a game and have it in 6-8 weeks.
Then to an announcement and a question. As you may know "Treecer" is a small company founded by Samuel and me. For us Kickstarter is also financially important and that is why we launch a Kickstarter campaign every half a year. We would like to launch our next campaign on June 22nd, but we wanted to ask you first, if this is ok for you. We would have loved to deliver P'achakuna to you already, but Covid makes any planning impossible and all processes so much slower. I think there is one central question: How would an early launch of a 5th campaign impact this/fourth campaign?
First of all, it is important to know that our last two campaigns were also launched before the previous campaign was finished/fulfilled and one did not affect the other in any way. Moreover, it is also important to know that our 5th campaign would be a jigsaw puzzle and not a new board game. Thus, these are also projects in different fields, with different backer groups.
Update: We would (of course) continue to publish our updates here, in time and as promised. Like in all previous campaigns, we would change to biweekly updates during the fulfillment, because there is simply less to tell during this time, but that is an independent decision and not related to a 5th campaign.
Customer Service: As every one of you who has ever sent me a mail or comment knows, we answer 99% of these messages within one day, mostly within a few hours. There is not one backer from this or any previous campaigns who has contacted us and has not received a reply. I am 100% sure about that. And of course, this would not change with the start of a 5th campaign. The customer/backer service does not stop with the launch of a new campaign.
Finances: Don't worry, the production costs of P'achakuna have been paid and the costs that will be incurred for fulfillment have been determined and the money set aside. Additionally, we theoretically have enough money to pay for production and fulfillment even a second time (please not xD).
Can you handle two campaigns simultaneously: Yes, definitely, we already did this successfully before. We know how Kickstarter works, we have our fixed production and fulfillment partners. We can easily manage one campaign and at the same time take care of the fulfillment of another campaign. Fulfillment/Production is anyway handled by external companies, i.e. this runs completely independently from us.
From my perspective, an "early launching" 5th campaign would not influence P'achakuna at all, i.e. you, our backers, would not be worse off in any way. But what you can say for sure is that with a second campaign, we have to focus on several projects and cannot solely focus on this campaign. That is true, but this would be the case anyway! During the completion of the products of this campaign, we have already planned/worked on other projects whenever there was a free spot in our agenda (e.g. during waiting periods). Since we handed over the production files to the manufacturer, our tasks for this campaign are reduced to answering your emails/comments, writing an update once a week and organizing the fulfillment. Understandably these tasks do not fill our weeks (otherwise we would be very inefficient) and therefore we can invest a major part of our time in new projects. We are currently planning/developing 5+ future projects. If we did not do this, we would simply be facing a hole after the completion of each project, and you simply cannot run a company like that. For us as a company it would therefore be really important if we could start this 5th campaign "early".
I know, of course, this is also a question of trust. Since we really want to build something sustainable/permanent on Kickstarter, there is only one valid incentive, to take care of your trust as much as possible. Backers are the most important "thing/good/asset" (everything sounds wrong, but you know what I mean xD) for KS creators like us. If we just wanted to make some quick money, we would not answer your mails so quickly, would not publish weekly updates or produce CO2 neutral/FSC certified products etc. Starting a fifth campaign a little earlier only makes sense for us if we live up to your trust. It would be totally idiotic to run a fifth campaign to strengthen your own company, but at the same time lose the trust of the existing backers. Then we might as well shoot an arrow into our own knee :P We are aware that we are theoretically free to do what we want. But we are here on Kickstarter, you are part of our story/our crew and therefore your opinion is especially important to us. Feel free to let me know what you think with a comment (below) or an email to ma[email protected]
You are probably wondering now what this new project would be. It is the following...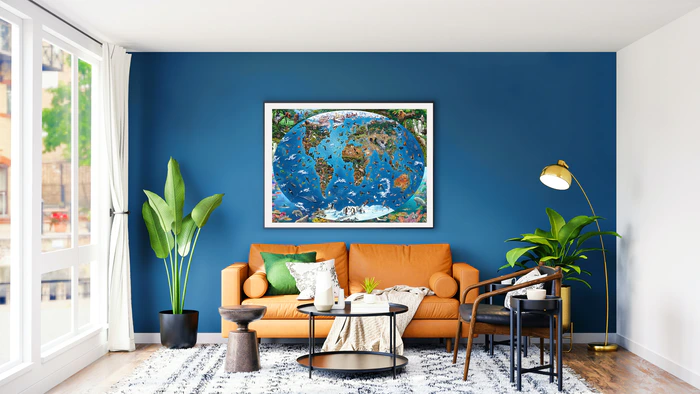 Nice photo taken/created by Samuel :)
It is a world map that focuses entirely on endangered species (Critically endangered, endangered, and vulnerable) and shows more than 360 of them in their natural habitat. The project was realized with 9 artists, including Johanna Tarkela (from P'achakuna) who drew the ocean and Rozenn Grosjean (from Darwin's Choice) who hand painted the South Pole and the two bottom corners (which are still work in progress). In addition, we have been able to bring Conservation International, one of the largest conservation organizations in the world, on board as a partner, which is really a big deal for us. We offer the illustration as a large art poster (116x85 cm; 46''x33''; 250 gsm) and a 3000-piece jigsaw puzzle. Both of course sustainably produced and planned/implemented with a lot of passion. The puzzle even has a little "trick" so that you can solve it in three pieces if you do not have a large enough table for 3000 pieces or want to puzzle it with kids.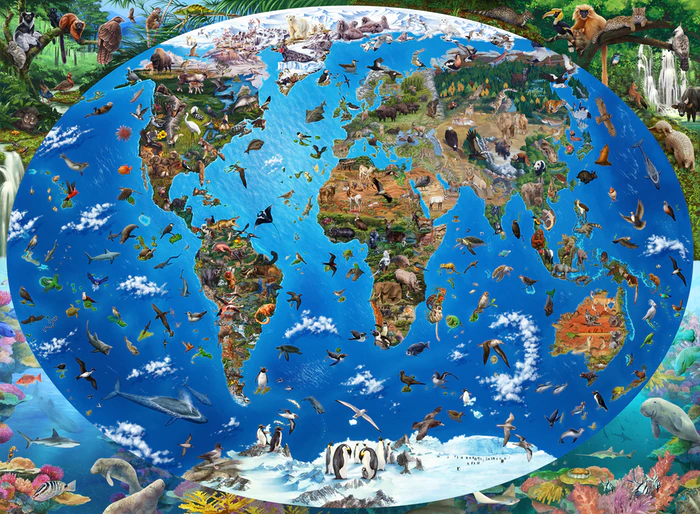 And here a bit larger :)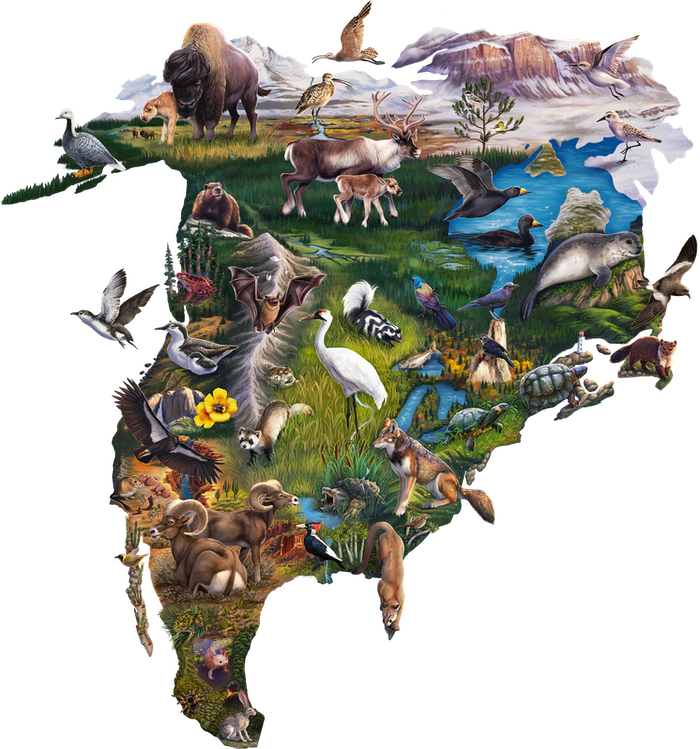 And here North America as an example :) drawn by Nicole Bueckert.
I hope you like our newest creation even if it is not a board game. It is definitely a bit a "crazy" project and the most expensive artwork we have ever paid for xD but that is what makes it special, no one else would do something like this and it also fits perfectly with Kickstarter. Sometimes you just have to do something crazy and then hope people like it as much as you do.
Two questions to end with, just because we like to include the opinion of our backers in projects. (1) How much would you be willing to pay for such a unique 3000-piece puzzle? (2) And how much for the large art poster? Hearing these two numbers from as many backers as possible would be really interesting and helpful for us (even if you don't like puzzles and posters at all). Samuel and I are both from Switzerland, everything is expensive here, so it's not easy for us to know what other countries perceive as fair prices.
Thanks in advance for all comments and mails! Have a great week 😊
With best regards,
Marc & Samuel
Back