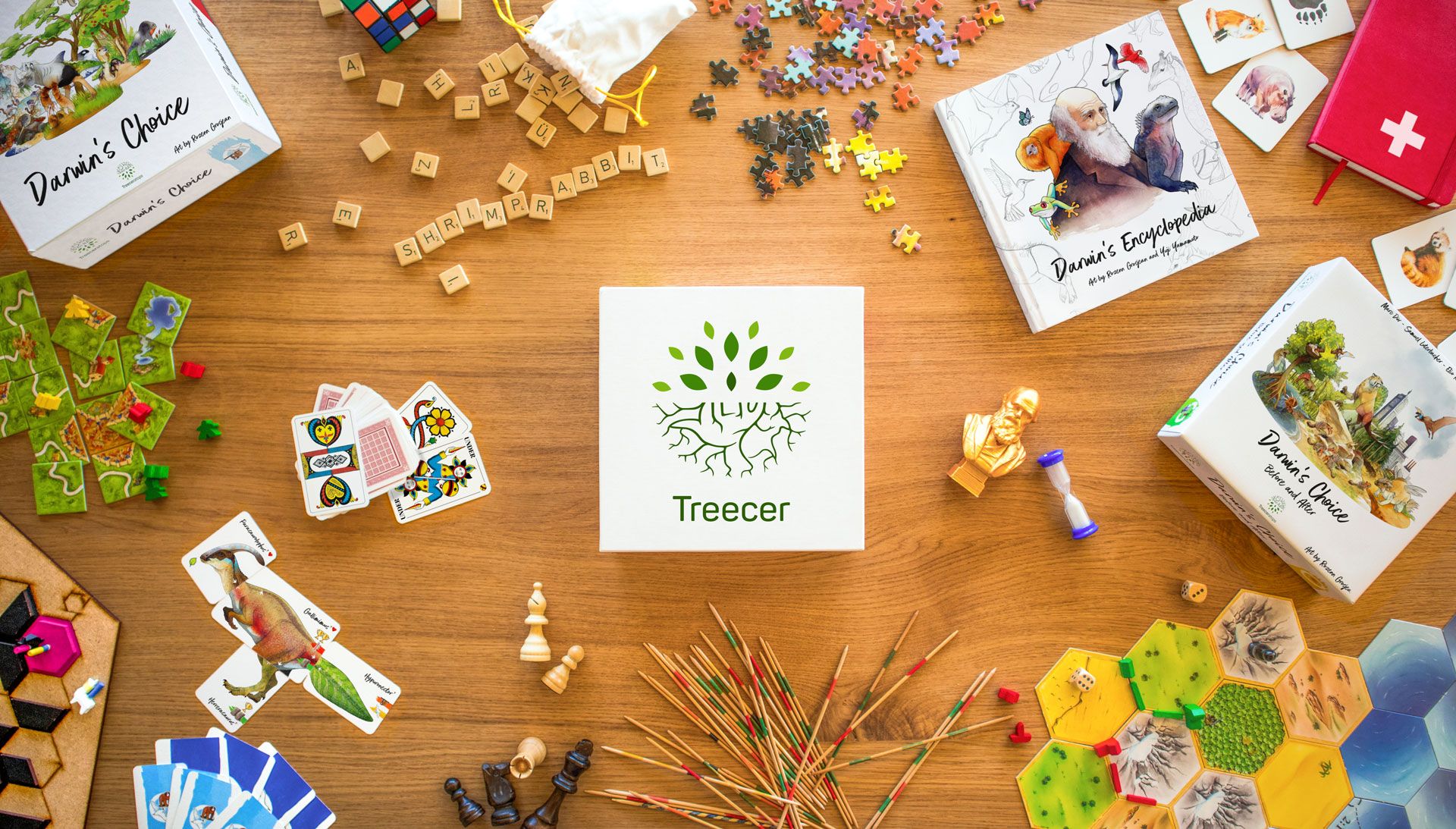 News
Week 25: Shipping is almost ready to start
31. May 2020
Summary of the update:
The production of the base games "Darwin's Choice" is finished, the production of the expansion "Darwin's Choice before and After" will follow next week.
For all European backers (EU/Non-EU) and Rest of the World backer: In case you moved since filling out the survey on Gamefound in January, please provide us your new address! This is very important.
Pictures from Darwin's Encyclopedia are presented.
Soundtrack of the week: Oliver Cheatham - Get Down Saturday Night
Dear Backers,
I hope you are all doing well. I'll start with the most important information right away. The second print run of the base game "Darwin's Choice" finished last week and "Darwin's Choice - Before and After" should follow in the upcoming week. This is of course great news! It also means that we can start with the shipping/fulfillment in the second week of June. Marc will explain in detail how the exact schedule for shipping to the respective zones will look like in a soon to be released update.
Please read the following lines very carefully if you are from Europe or "Rest of the World (ROW)". That means these are part of the following countries (all other backers are kindly asked to skip this part until I start showing images of the encyclopedia. Otherwise it only creates unnecessary confusion 😊):
EU: Austria (AT), Belgium (BE), Bulgaria (BG), Croatia (HR), Czech (CZ), Denmark (DK), Estonia (EE), Finland (FI), France (FR), Germany (DE), Greece (GR), Hungary (HU), Ireland (IE), Italy (IT), Latvia (LV), Lithuania (LT), Luxemburg (LU), Netherlands (NL), Poland (PL), Portugal (PT), Romania (RO), Slovakia (SK), Slovenia (SI), Spain (ES), Sweden (SE)
Non-EU Europe: Great Britain (GB) / Jersey (JE) / Guernsey (GG), Greenland (GL), Island (IS), Norway (NO), Ukraine (UA), Serbia (RS), Switzerland (CH)
ROW: Argentina (AR), Bermuda (BM), Brazil (BR), Chile (CL), Colombia (CO), Israel (IL), India (IN), Mexico (MX), Peru (PE), Saudi Arabia (SA), United Arab Emirates (UE)
Since the production of Darwin's Choice and its related products takes place in Europe, Backers from European countries will receive their pledges first. In addition, all Rest of the World packages will also be sent from within Europe. Since our European fulfillment center does NOT send you an email/sms/whatsapp to verify your address (like our US/Asia/AUS/NZ fulfillment centers), we have to make sure that your address is 100% correct.
Returned deliveries are difficult to handle, as Marc has to follow up each individual case. That means it costs a lot of time on one hand. On the other hand, it also costs money. A returned shipment is not cheap and with increased occurrences, these can accumulate to a large sum. And if these costs result because you provided the wrong address to us, you have to carry the second shipping costs yourself. But you can easily prevent this, with making sure that you provided the correct address to us.
How can you check your address? Just log into your Gamefound account (our Pledge Manager) and have a look at the address your provided to us. In case the address is correct, perfect, then you are good :) in case that the address isn't correct, then please send us the new address via mail to [email protected] or a personal message to Marc :)
Side Note I: Please only write to Marc if your address isn't correct. If you are sure that you provided the right address to us, if you didn't move till January, etc. just forget about all of this, you are good and will receive your package without any problems 😊
Side Note II: If you were already in contact with Marc regarding your address, you are good :) Marc is very careful and takes a note about everything.
Side Note III: If you are in a situation where you are not sure if you will still be living at the same place in 1-2 months, please provide a secure address (from friends, family, etc.) where you know that the order can be certainly be delivered to. This would make things much easier for us.
Also don't be surprised if you are getting contacted by Marc :) To make sure that all affected people are reached (those who don't read our update included), Marc will send an email or a personal message to all backers from these regions today. If you have any questions, please don't hesitate and contact us. Thank you for your understanding and we can't wait until the shipping finally starts 😊!
Encyclopedia (welcome back all Non-Europe/Non-ROW backers 😄)
Since we now know when the shipping of the games can begin, the books will also be sent to our logistic center in Germany the following week. The pictures of the finished products I present you with great pleasure :)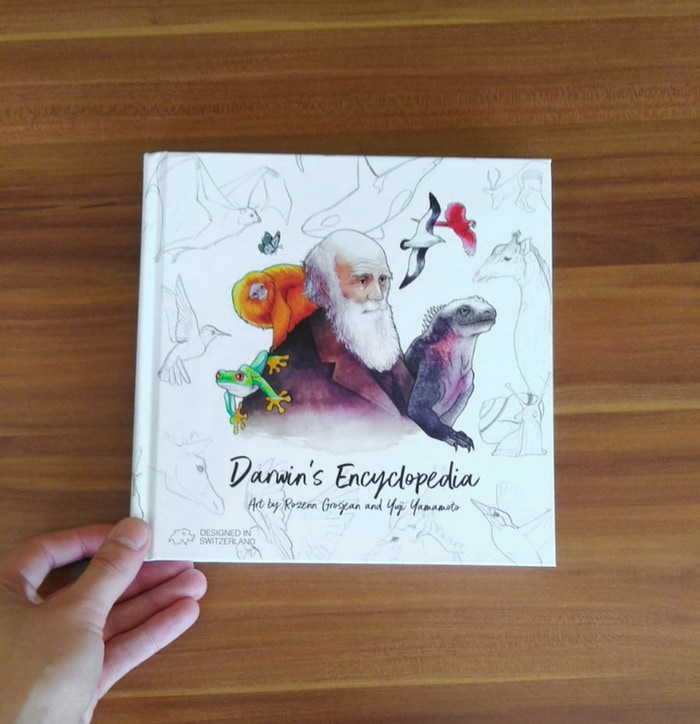 Darwin's Encyclopedia in its final form :)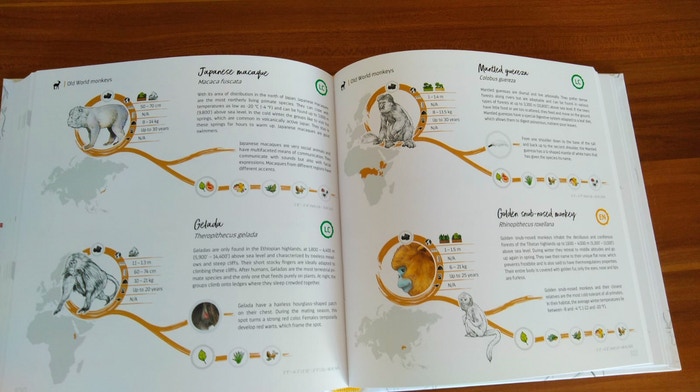 Thanks a lot for identifying the animals in the last update. It's really fascinating how much our community knows about wildlife and turns out to be a great help for us. Unfortunately, some species could still not be identified. But don't worry, in a further step I will try to contact forums and Facebook groups that specialize in individual animal species. This will not only be an exciting task for them, but will also serve as a "small" self-promotion for the puzzle campaign :)
To finish I have once again an animal video for you. This time we see how lemurs use millipedes as insecticide. However, this process has some fun side effects :D
https://www.youtube.com/watch?v=yYXoCHLqr4o
I wish you a pleasant upcoming week. With kind regards,
Samuel, Marc and Elio
Back