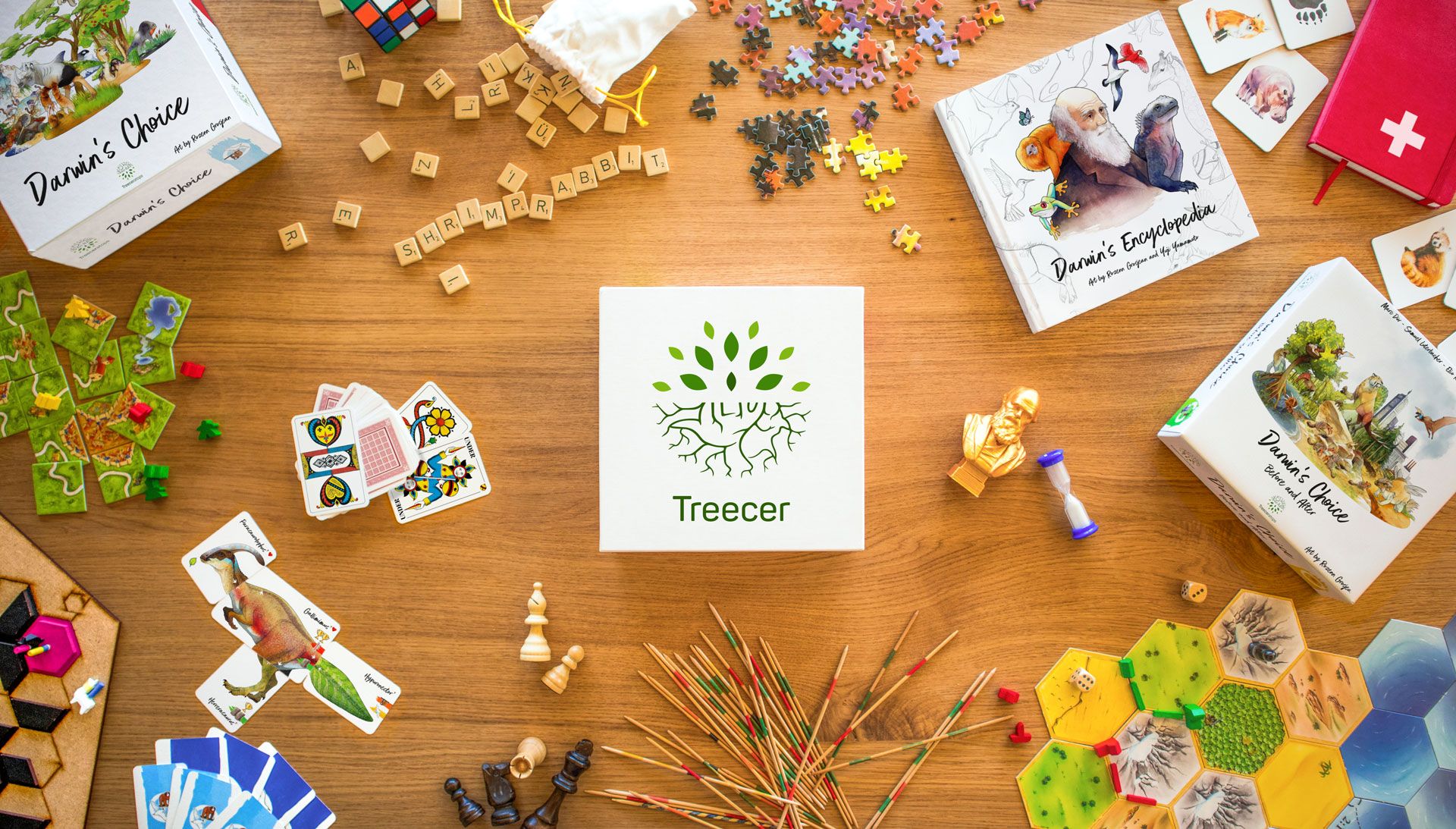 News
Week 23: Encyclopedia printing
26. May 2020
Summary of the update:
Thank you for all the positive feedback concerning our last update!
If you would like to be mentioned on our Thank you page, please write your name on THIS list.
We provide you some background information about the production of the Encyclopedia.
Please help us to identify a drawn bird 🙂
Soundtrack of the week: Steven Price – A Game of Strategy
Dear Backers,
I hope you enjoyed your weekend so far. Last week, we communicated to you our upcoming plans and wanted to get honest feedback if it is ok for you, our backers, that a next Kickstarter campaign commences although the delivery of this campaign is not yet finished. Since your opinion is very important to us, and even determines how things will go on, we were a bit nervous. However, the feedback we received from all of you was overwhelmingly positive. At this point, we would like to thank you very much for your supportive comments. They were all heartwarming and motivating to read 🙂 The trust we receive from you is really extraordinary. We are aware of this and I can promise you that we will do everything in our power to prove you right.
Since last week's updates had quite a lot of information and we didn't want to overload it with too much text, there is some information we couldn't tell you in the last updates.
On one hand, I would like to remind you that if you want to be mentioned on our thank you list, you can subscribe to this list. On the other hand, we received some footage and photos of the Encyclopedia production 2-3 weeks ago. Of course, I do not want to withhold these from you.
I have to warn you at this point though. The quality/resolution of the videos is not very good XD but I really appreciate that our manufacturer has responded to our request and has taken the trouble to give us an insight into the production.
It might be helpful if you know what exactly happens with the machines and get some background information about the printing process. Initially, I wanted to write down how the whole process works, but after ½ page I had to realize that a short video might be easier (and more entertaining) to understand. So, for all of you who want to know exactly how offset printing works, you can watch a short explanation video under the following link 🙂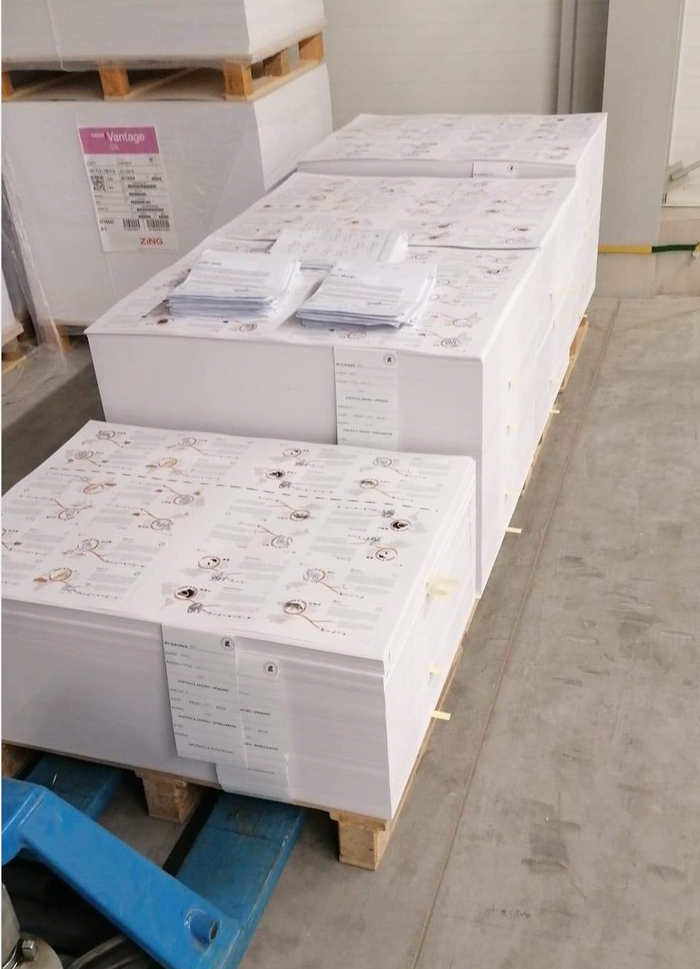 A lot of printed pages for our encyclopedia :)
At the moment, the books are waiting for their transport to Germany. (Since the games are delayed, we also slowed down the transport of the encyclopedias i.e. they will arrive in Germany when the games are ready. Games and books then will be sent together to the fulfillment centers).
Finally, a little riddle for you :) In every box of each puzzle we showed you last time, we will include a list with all the animals shown on the puzzle. This way it's possible to get to know some new animal species while creating the puzzle. Since these puzzles were drawn in the pre-internet era, the corresponding artist had only a few reference images per animal and not several hundred on Google (life has really become easier thanks to the internet XD). The result of this process is that the drawings of some rather unknown species do not always correspond to the pictures we find today. However, we have managed to identify all animal species on the first two puzzles with one exception. We just could not find the bird below (the brown one with the blue head), even after hours of searching X)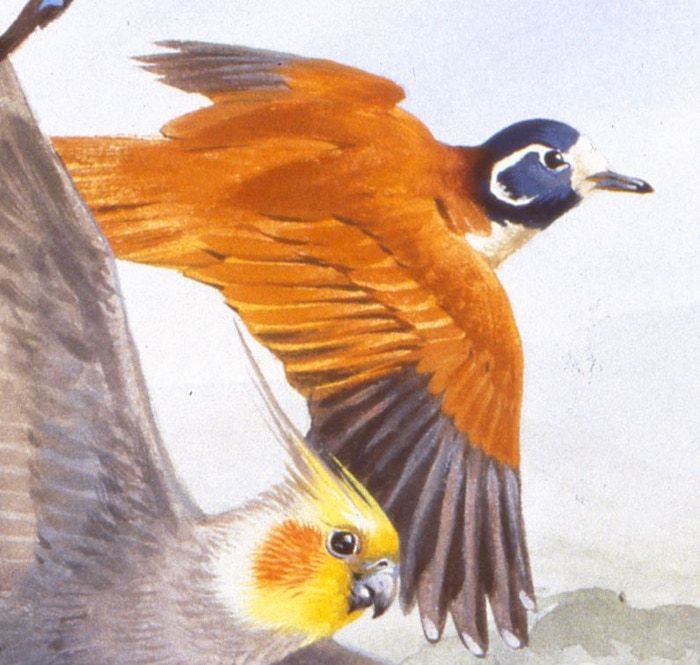 The mysterious bird, which we are not able to identify.
The terms that we used when searching were: Rufous plumage bird, glossy black head, white breast, white facial markings, iridescent black/blue… The closest bird species that we have found are: Paradise Flycatcher and Blue headed quail dove. But we are 100% sure that these are the wrong birds. Until now, it has always been the case that when you find the right bird, you would instantly know it. The animals have been drawn with great attention to detail. We would be very grateful if you could help us to identify the animal. Perhaps there are bird specialists/ ornithologists among you who know exactly what to look for. Many thanks in advance :)!
Today's video clip shows how fearless Adélie penguins are, although they are only medium sized penguins. They have definitely earned my respect!
That's it from my end. There is nothing more to say than to wish you all the best for the upcoming week 🙂
Hear each other soon again. With best regards,
Samuel, Marc and Elio
Back