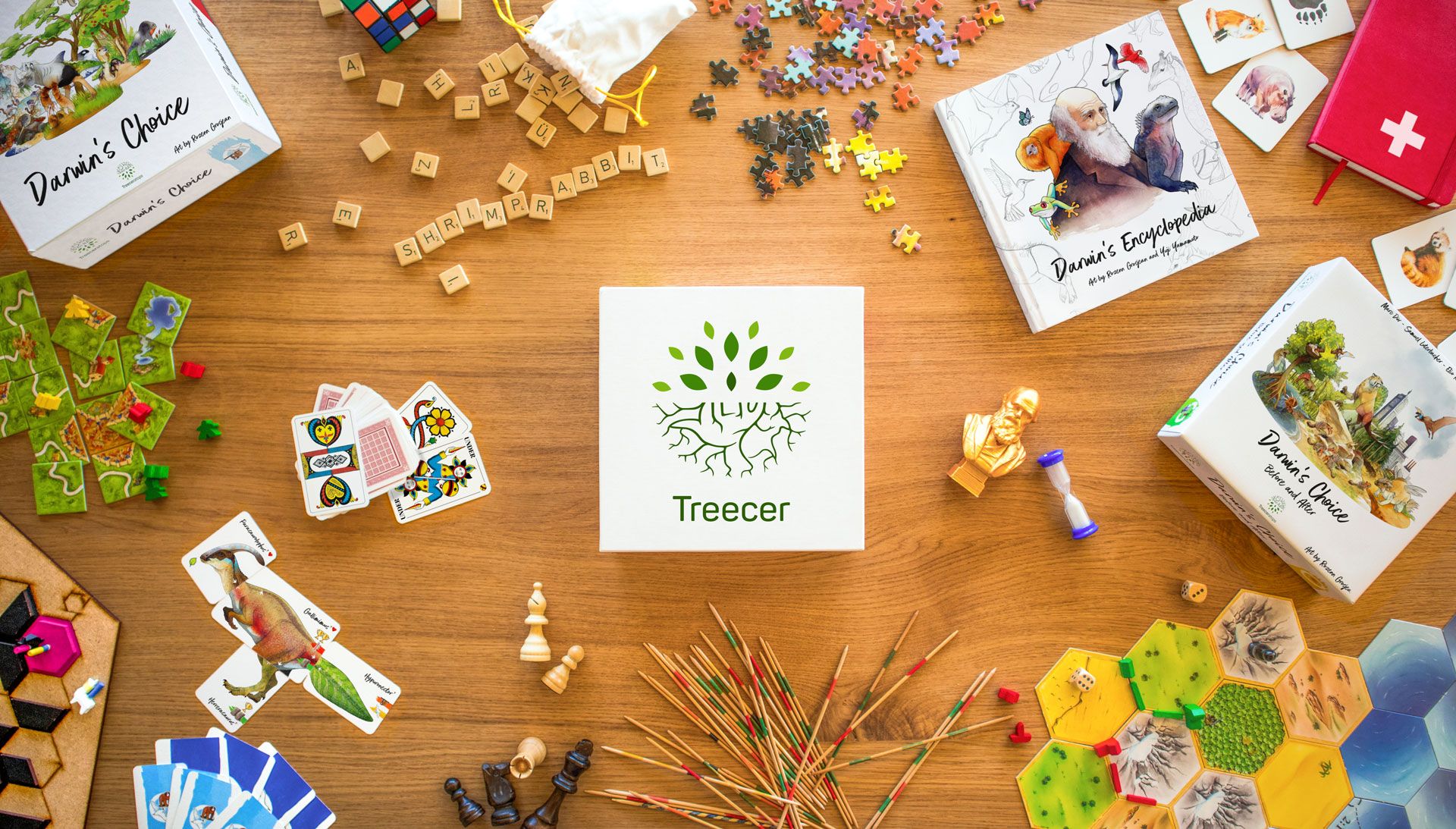 News
WEEK 22: FUTURE PLANS
26. May 2020
Summary: Please read the update (that would be important for us), no worries, next time there will again be a "normal" summary.
Hi Everyone,
I hope you had a good week and that you are now enjoying your well-deserved weekend :) As most of you may have read already (HERE), the production of Darwin's Choice was shifted to the first week of June due to a paper shortage in Europe. Thanks a ton for all the positive feedback from all of you! The situation has not changed any further, i.e. the production of Darwin's Choice (+ expansion) is still scheduled in the beginning of June.
Regarding the fulfillment, as mentioned on Tuesday, the preparations are already very advanced, i.e. I was able to organize most of it last week. At the moment I'm evaluating potential shipping options which could speed up the fulfillment a bit. At the end of May (closer to the end of production), I will inform you about the fulfillment in detail.
As announced in the last update, this update will focus on how this delay impacts us as a company. To make it short, due to the corona crisis we are around 2 months behind our annual plan. One month is the result of the production delay announced on Tuesday, the other month is simply the sum of many small delays. With Corona everything is slower, mails are answered more slowly, clarifications take longer, sending packages (e.g. print proofs) internationally is very complicated, etc. So, we definitely were not able to work as efficiently on this project as we normally do (the quality is the same, no worries, but the effort/time invested was definitely higher). From a campaign perspective these 2 months are not a problem, because about half of you will still get their pledge in June and therefore exactly in time (and all the others will receive it in July/August). For us as a company the situation is a slightly different one. As you could read in my updates about the Expenses and Revenues of our small startup, we as a company still have to grow a bit to make this startup a "healthy" company. To be more precise, we would need 2 Kickstarter campaigns per year, i.e. in a 6-month rhythm, to achieve our goals (or a large one, with 250k+; but we can't "force" this). We have also based our annual planning on this and have worked hard to achieve it. The problem now is that if we wait longer than mid-June/-July, we won't be able to perform two Kickstarter campaigns this year. But due to the Corona-related production delay, half of all backers will not receive their pledge until July/August. And that is a problem that we need to solve and discuss with you.
That's why we wanted to ask you, all our backers, what your opinion is on the following: How would feel about it if we would launch our third campaign sometime between mid-June and mid-July and therefore before the this campaign is 100% fulfilled?
Before you answer this question by mail ([email protected]) or comment, please let me answer some questions in advance and provide you more information.
The main questions, which I expect, is the following:
How would an early launch of a 3rd campaign impact this/second campaign?
First, it is important to know the following: We would only start this 3rd campaign if the following conditions are met. (1) The productions of Darwin's Choice, the expansion and the encyclopedia are 100% complete. (2) The first backers must have received their pledges. Because then they can write in the comment section and prove/confirm that everything exists exactly as promised, that there are no production errors etc. (3) The bulk shipments for the USA/CA/Asia/AUS/NZ are shipped and on their way. If one of these conditions are not met, we would never start a new campaign.
Weekly Update: We would (of course) continue to publish our updates here, in time and as promised. Like in the first campaign, we would change to biweekly updates during the fulfillment, because there is simply less to tell during this time, but that's an independent decision and not related to a 3rdcampaign.
Customer Service: You don't have to worry about that. As everyone of you who has ever sent me a mail or comment knows, we answer 99% of these messages within one day, mostly within a few hours. There is not one backer from the 1st and 2nd campaign who has contacted us and has not received a reply. I'm 100% sure about that. And of course, this would not change with the start of a third campaign. I still reply to backers from our first campaign, which was fulfilled one year ago and as long as our company exists, I will continue doing this. The customer/backer service doesn't stop with the launch of a new campaign.
Finances: Don't worry, the production costs of the 2nd campaign have been paid and the costs that will be incurred for fulfillment have been determined and the money set aside. Additionally, we theoretically have enough money to pay for production and fulfillment even a second time. It is also important to note that in a Kickstarter campaign, the biggest costs incurred after the campaign (i.e. production and fulfillment), so the preparation costs of the 3rd campaign do not affect the 2nd campaign in any way.
Can you handle two campaigns simultaneously: Yes, definitely. We know how Kickstarter works, we have our fixed production and fulfillment partners, we know the "traps" you can step into and we have defined processes for everything. We can easily manage one campaign and at the same time take care of the fulfillment of another campaign. This means that the second campaign is 100% not slowed down by the 3rd campaign. Fulfillment is handled by external companies, i.e. this runs completely independently of the 3rd campaign.
From my perspective, an "early launching" 3rd campaign would not influence the 2nd campaign, i.e. you, our backers, would not be worse off in any way. But what you can say for sure is that with a second campaign, we have to focus on several projects and can't solely focus on this campaign. That's true, but this would be the case anyway! During the completion of the products of this campaign, we have already planned/worked on other projects whenever there was a free spot in our agenda (e.g. during waiting periods). Since we handed over the production files to the manufacturer, our tasks for this campaign are reduced to answering your emails/comments, writing an update once a week and organizing the fulfillment. Understandably these tasks don't fill our weeks (otherwise we would be very inefficient) and therefore we can invest the major part of our time in new projects. We are currently planning/developing 3-4 future projects (i.e. we have a plan till the end of 2021). If we didn't do this, we would simply be facing a hole after the completion of each project and you simply can't run a company like that. For us as a company it would therefore be really important, if we could start this 3rd campaign early, otherwise we would somehow "lose" a year (due to corona). Because as I explained to you in the revenue update, our revenue side depends heavily on Kickstarter. Additionally, we have to develop a bigger assortment, so we can sell more i.e. at conventions, via the online shop etc. In addition, we only become interesting for big players like distributors with more products. If we only run one campaign per year, then we just won't get anywhere, and maybe this even means that we have to stop working full time for this. That's just the truth.
I know, of course, this is also a question of trust. Since we really want to build something sustainable/permanent on Kickstarter, there is only one valid incentive, to take care of your trust as much as possible. Backers are the most important "thing/good/asset" (everything sounds wrong, but you know what I mean xD) for KS creators like us. If we just wanted to make some quick money, we wouldn't answer your mails so quickly, wouldn't publish weekly updates or produce CO2 neutral/FSC certified products etc. Starting a third campaign a little earlier only makes sense for us if we live up to your trust. It would be totally idiotic to run a third campaign to strengthen your own company, but at the same time lose the trust of the existing backers. Then we might as well shoot an arrow into our own knee :)
We are aware that we are theoretically free to do what we want. But we are here on Kickstarter, you are part of our story/our crew and therefore your opinion is very important to us. We are very interested in comments/mails regarding this update and please ask questions. Please express your opinion! Because if only 10% are totally against it, we probably can't do it. Already several angry backers, who would then also express their displeasure in the new campaign, can be catastrophic for a new campaign. We want an honest and open exchange with you now, so that we are all in the same boat, when the 3rd campaign would start. That would be very important to us!
I know, maybe we make this a "bigger thing" than it is (for some backers), but that's because we really care. I am very curious about your feedback. I wish you a wonderful weekend/Mother's day :)
With best regards,
Marc, Elio and Samuel
PS: Now you are surely interested in which products are in planning… O.K, fair game, here they are :)
1) Mid-June/-July we would like to launch a jigsaw puzzle campaign (that we are planning since last autumn). We will bring back the "Supreme World Wildlife Mystery Collection" by John Francis. The name is totally strange, but the artwork is incredibly beautiful, and these puzzles are no longer available anywhere. Additionally, Justine Lee Hirten (HERE is her website) – a really talented artist from the US is atm finishing a new artwork for us, which will only show endangered and critically endangered species.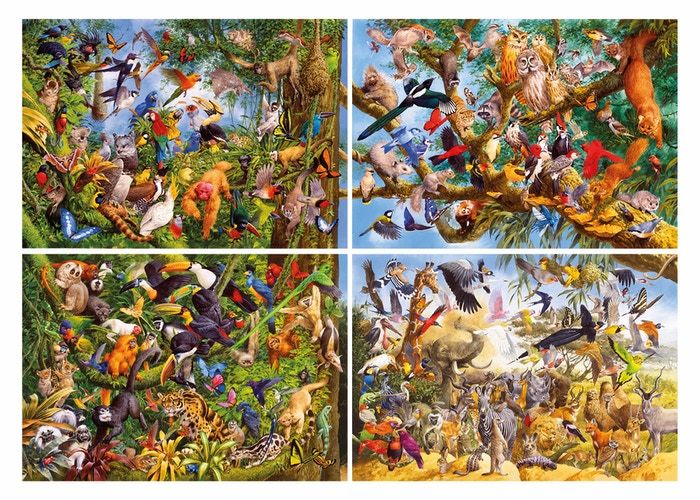 Nice, right? :) 4 jigsaw puzzles, 1000 pieces each.
2) We have licensed an ingenious strategic 1vs.1 board game from two students. The gameplay is really nice/minimalistic, and we would launch it sometime in Q4 this year.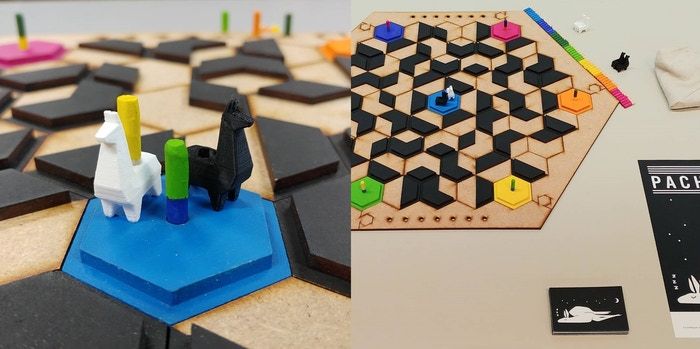 Two pictures of the prototype :)
3) At the moment we are helping another creator polishing his Climate Change game. We really like the game and especially the design is very well done. There is a good chance that we will license it and add it to our assortment. (Maybe we will bring a 2nd printrun on KS sometime in 2021/2022, but at the moment this is not a fixed part of our plans.)
4) Q1/Q2 2021: This will be by far our biggest project. We are currently working on a big board game about Zoos (I'm working on it since I'm a child and this is no joke at all). There is nothing to show yet, but we are in contact with two very talented US-artists, who will illustrate this game. More I can't/won't tell you atm, sorry, I like secrets :)
Back