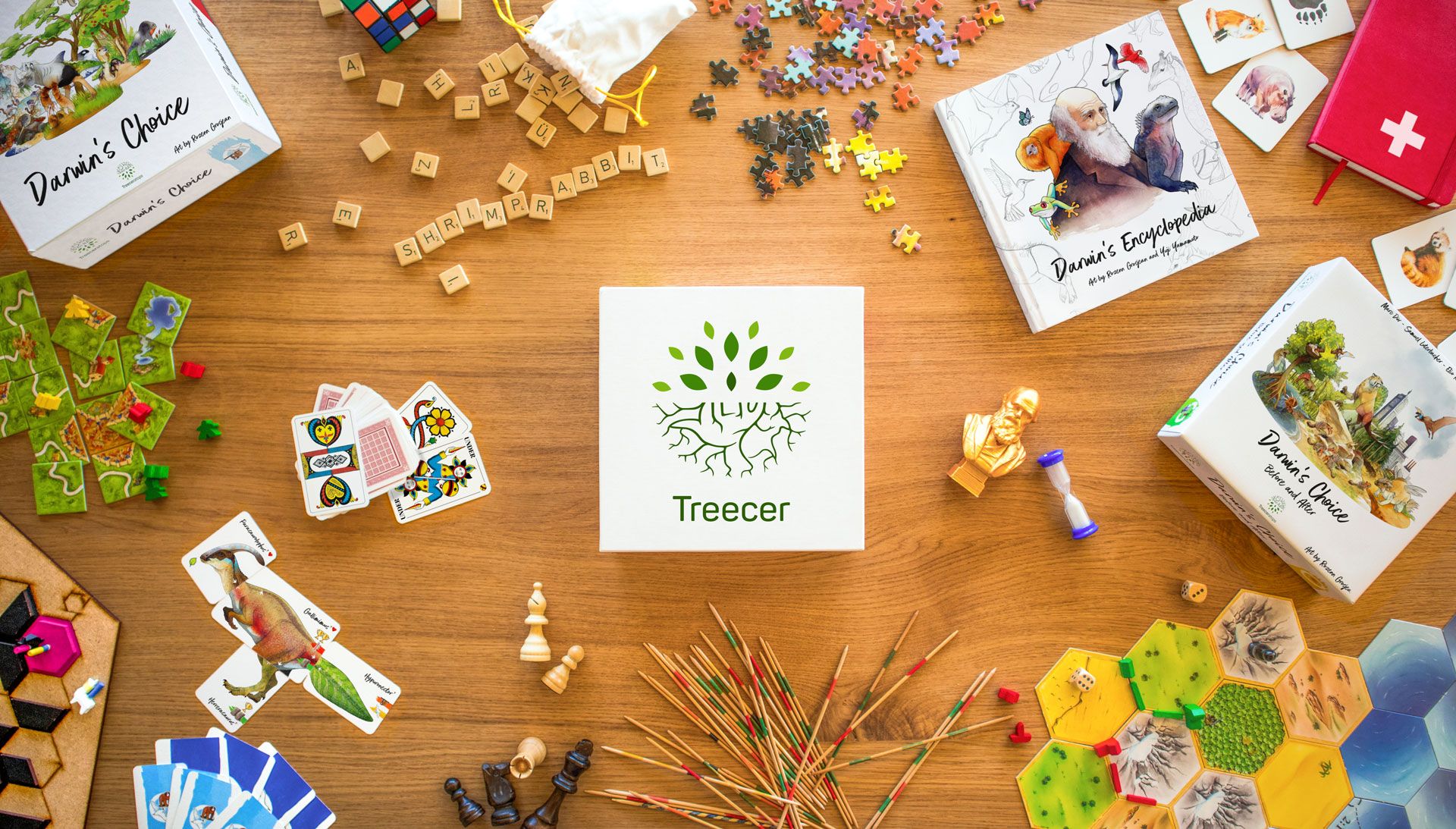 News
Week 19: Accounting – Our revenue accounts
20. April 2020
Summary
Hi Everyone,
How are you? And this is really not a standard "How are you?" I am honestly interested in hearing if you are healthy and safe? What is the situation in your country? I'm very interested to hear from you (in the comments section below this update or by mail) and I really hope that you are all doing well :)
Last week we submitted Darwin's Encyclopedia for production. Now we can only wait until we all have the finished products in our hands :) We are incredibly excited ourselves, because we have never seen the Expansion and the Encyclopedia in their final form, but only as prototypes or on the desktop.
This week was all about "cleaning up the chaos/mess". After weeks of working exclusively on the Encyclopedia, we finally found the time to reorganize, tidy up and work off pending issues. For example, we cleaned up our Google Drive, the Dropbox, the PCs etc., deleted everything that is unimportant and rearranged, saved and backed up the important stuff. But you probably know this only too well, it's standard procedure after you've finished a project. Personally, I have also been very busy this week with accounting and stock management. On the one hand I had to finish the 2019 accounting, on the other hand the first four months of 2020 were also waiting. In addition, we need a new stock accounting system, which not only includes Darwin's Choice (EN/DE), because we will soon have two new products in our warehouse (and a few more will be possibly added this year :)).
As this might be interesting for you too, because you don't come in contact with "board game publisher accounting" every week, I will talk about our revenue accounts in this update and about our expense accounts, the stock accounting system and the state of our startup in the upcoming updates. I hope that you are interested in this and otherwise you don't have to read it, it's all voluntary :)
Revenues:
As you may know, every accounting system consists of assets (what you have) and liabilities (what you owe someone), which come together in the balance sheet. In addition, every company has revenues and expenses that are included in the profit and loss account. In the following I would like to present you our revenue accounts as a board game publisher.
Kickstarter: This is probably the most logical part of our revenue side for you, this is the money we earn on Kickstarter, i.e. your collected pledges. This account is by far the biggest, we can only "survive" if we do well with our projects on Kickstarter and can convince as many backers as possible of our vision and our projects. In other words, Kickstarter is not simply a "nice to have" way, as is the case with other large publishing houses, but a "must have" way. Without your support our products will not become reality. We are very satisfied with our first two campaigns, but for the future we have to grow, because we put a lot of time and work into every detail and that takes a lot of time and time costs. Quality definitely has its price. If we succeed in this, then things will look good/healthy for our startup.
Preorder: These are revenues from the Pledge Manager (i.e. when someone has selected an additional product and thus increased his or her Kickstarter pledge). For our second campaign these revenues were significantly higher than for our first campaign. There are several reasons for this. First, we didn't use a Pledge Manager in our first campaign, second, there was only one product in our first campaign and that was Darwin's Choice. For the future, these returns will certainly become even more important. For example, if a backer of a future campaign chooses Darwin's Choice in the Pledge Manager because they didn't know this game before. Since our games are hard to get internationally, the Pledge Manager is one of the few opportunities for international backers to get our games and this at a lower shipping price than usual. Because as a result of a Kickstarter campaign (with many backers = many orders), we can work with fulfillment centers and ship the games in bulk, for example to the USA, which lowers the price significantly.
Conventions: These are the revenues we generate at Conventions, i.e. direct sales. Last year we attended three major conventions in Switzerland. I'm really satisfied with the results, especially when you see how things went, i.e. we got better with every convention, because you definitely have to learn how to "sell" a product (in real life). Samuel and I definitely learned a lot from Elio, who is really good at it. At all the conventions we made more than we paid for the booth and that is of course a must. But our potential in this area is limited, especially in Switzerland. At Fantasy Basel (the biggest Swiss convention; was our first big convention) we can definitely perform better, but at the Zurich Game Show and the Hero Fest (Bern), we pretty much "exhausted" our possibilities 100%, there was nothing more we could do. For this reason, we will (if it is possible despite Corona) this year go to the SPIEL Essen and see what is possible there. But you definitely have to be careful, because when we are outside of Switzerland we have to pay for accommodation, food, transport and the booth fees are way higher. And all these expenses have to be earned before you reach "break even".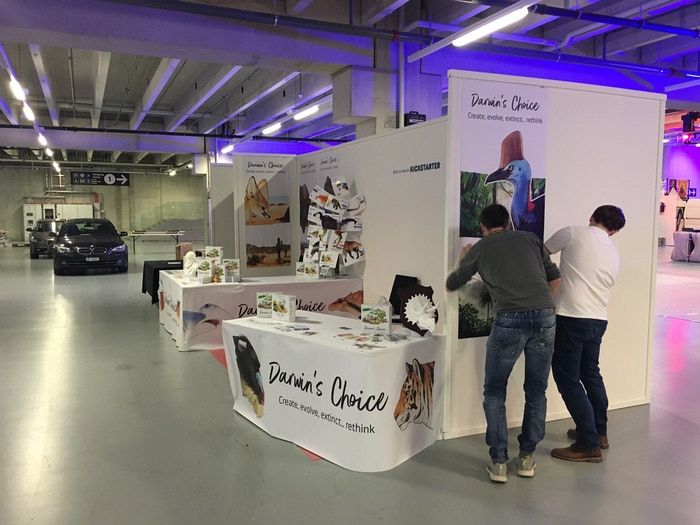 Retailers/distributors: For a publisher, retailers are important partners, as they present our products to their customers. In Switzerland we have two really good/big retailers, WWF Switzerland and Galaxus (biggest online retailer in Switzerland), who are also very happy with Darwin's Choice. These are key partners for us, because they have a huge reach and promote our brand, this is very important for our future. In addition, we have also sold Darwin's Choice to many smaller board game stores in Switzerland and abroad. Most of these small shops do not reorder because their space is limited. In addition, international small retailers are sensitive to shipping prices (because their margins are small) and in non-Kickstarter times our shipping conditions are simply too bad to be worthwhile for such retailers (because their orders weight several kg). Financially, small retailers are not that interesting for us, most of them want/need a discount of 45-50%, i.e. this is more about being able to increase the popularity of our brand than earning (lots of) money. That's why we demand a minimum order quantity (MOQ) of 6, i.e. we don't earn that much on a single game, but with 6 games it's O.K. We do not sell to (small) online retailers (With selected exceptions). Because such shops compete on the internet with our online shop and that doesn't make much sense for us. Small offline shops, which have a real brick and mortar shop, we like to work together, because they have a completely different customer segment than we do. Distributors (i.e. companies that supply retailers in a certain country) we do not have as partners at the moment, but are in negotiations with several of them. Such partners usually want even more discounts, i.e. 60-75%, but then take 1000+ copies. Since such companies do not want to take a bulk risk i.e. buy 1000 Darwin's Choice, we need a larger product assortment. For example, if we had 10 games, a distributor would take 100 of each and thus reduce its risk. So, for good distributor deals we simply need more good products. Another potential partner for us are other publishers who would publish our game under their brand. These publishers then give you between 2-10% royalties on their revenues. To be honest with you, we are not interested in that, i.e. we want to keep the rights to all our games and keep the quality standards high = we want the control over our products and make sure that all customers get the promised high quality.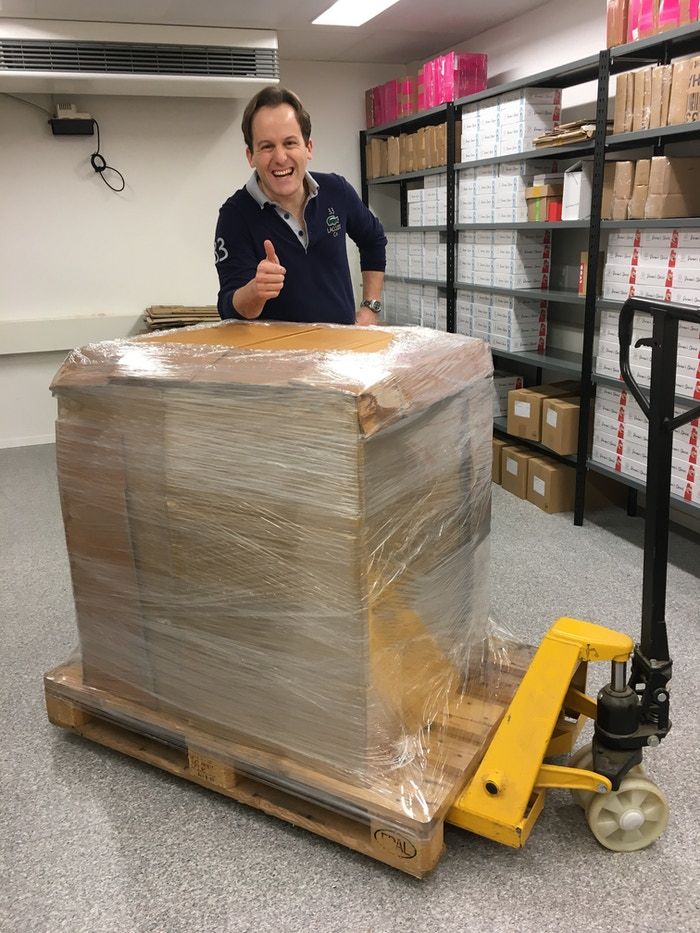 Online Shop: And then to our last important revenue account, the Online Shop :) Since May 2019 we have our own online shop where we sell our games (atm only Darwin's Choice) and send them worldwide (currently only within Switzerland, because of the Corona crisis). Since we have a good business deal with the Swiss Post, we can send our packages for a fair shipping price (for Switzerland :)). This sales channel is definitely important for us, as we can present our products directly to customers without "discounts". As with all such shops, the Christmas season is the most important time of year, i.e. during this time you make almost half of your annual turnover. If it is possible for us, we will also do more advertising for our shop on social media this year, because if you have a lot of traffic, you will be better displayed on Google and that is very important.
Other income/financial income: I can keep this relatively short, on the one hand this is income that has nothing to do with the core business, e.g. if Elio checks again if our online store works and transfers us 1 CHF, then this belongs there :) Thanks Elio! And the financial income would be the interest, but since you don't get a real interest rate at almost any bank at the moment, this is actually always "0". This means that these two accounts are simply the rest and do not belong to the operating income i.e. they are not relevant for business, but still important, because every cent/penny needs its place.
I hope I didn't "kill" you with this long text xD but if I have time, I'm always interested to provide you background information that you wouldn't get somewhere else.
Finally a little recommendation :) the creator of this Kickstarter campaign "Green House: Our home is in your hands" contacted me at the beginning of the week and asked me if I could give her feedback on her project page (which I did; they are still implementing all my recommendations :)). The campaign is an "original" Kickstarter campaign i.e. no polished, "pimped" advertising site, but real likeable people who want to make a little dream come true. The people are very committed and since many of you are also interested in sustainability/nature, I thought you might be interested in this as well. Because it's a small campaign, it won't be shown at the top of a list somewhere on Kickstarter. The video is cute and definitely worth a look.
Now I wish you a great start into the week and I would be very happy to read from you in the comments :)
With best regards,
Marc, Elio and Samuel
PS: For all brave readers that made it until this point, here is a good video as a reward. I love meerkats.
Back