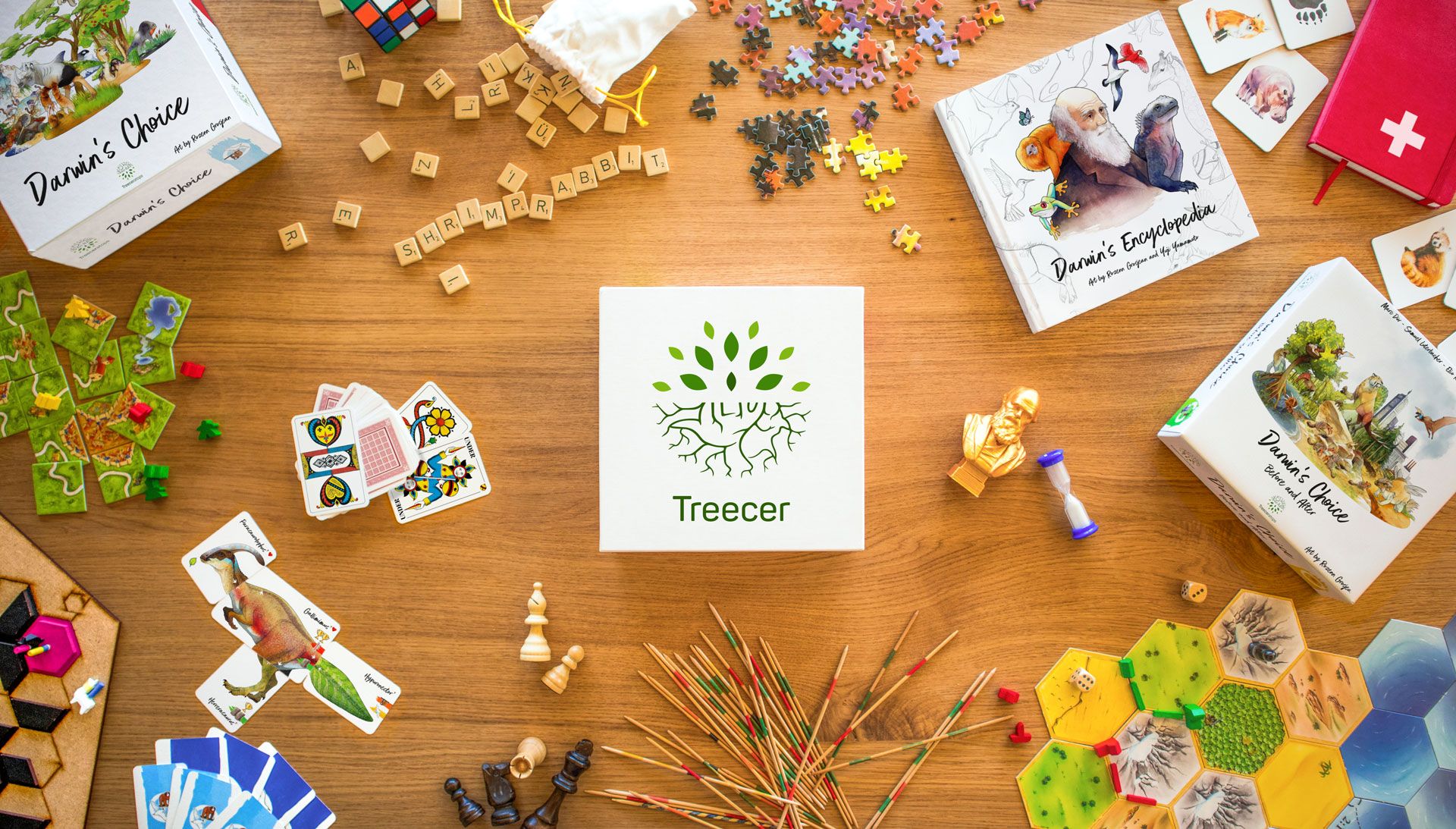 News
TWC Week 7 - The production is on schedule
31. August 2020
Hi Everyone,
I hope you had a great weekend. In Switzerland it rained the whole weekend from morning till evening. In some areas there were even floods, mud avalanches/ landslides and the mountain rivers were extremely high. Here in Central Switzerland we were a bit luckier, here it was just wet :)
First of all and most important, the production is currently fully on schedule, i.e. if we have no unexpected "corona" problems, the production will be finished in 2-3 weeks. This is perfect. If I can now organize the fulfillment efficiently, we really have a realistic chance that all/most backers should receive the puzzles before Christmas. But of course, I can't promise that. Because if this crazy year has taught us one thing, it's that you can never be completely sure.
The Pledge Manager is now also finished for a little bit longer, so you might ask yourself why you haven't received an email yet :P that's relatively easy to explain, Gamefound (our Pledge Manager) is owned by a big board game publisher. This publisher allows smaller publishers to use it for free. We really appreciate that. But this also means that Gamefound has to unlock our Pledge manager (i.e. it will be reviewed shortly) but everything looks good and you will surely get an invitation this week. If you then will click on the button in the email, you will get to this screen...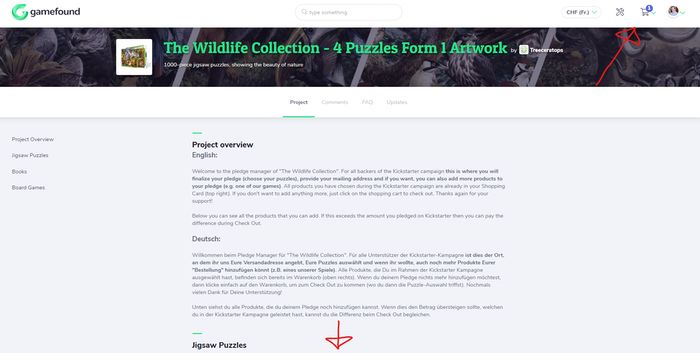 If you are satisfied with your pledge, you can simply click on the shopping cart on the top right. There you will already find everything you have chosen in the campaign. If you want to add something to your pledge, you can simply scroll down. There you can find the puzzles again, but also other products from us, e.g. our evolution game Darwin's Choice, our animal encyclopedia "Darwin's Encyclopedia" or a game we present for the first time (Tipping Point - the Climate Change Card Game).
If you click on the shopping cart / check out. You then see this screen...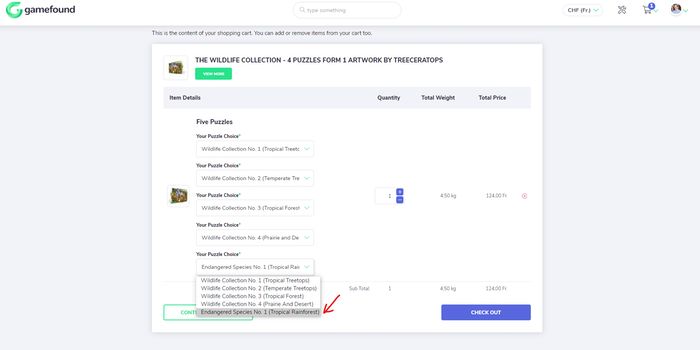 The most important thing here is to define the puzzles you want, i.e. you have to choose the name from the drop-down-menus (otherwise you will receive e.g. 3 times the same puzzle). If you don't know the names anymore, you will find a picture with the names of the puzzles within each puzzle "product" page, exactly this one...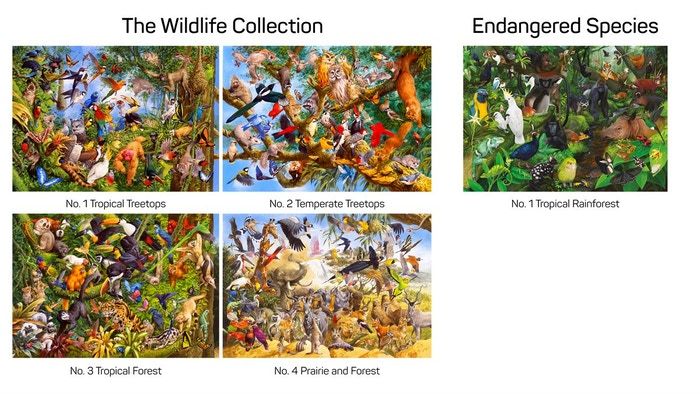 After you have chosen the puzzles, you just have to enter your shipping address and that's it..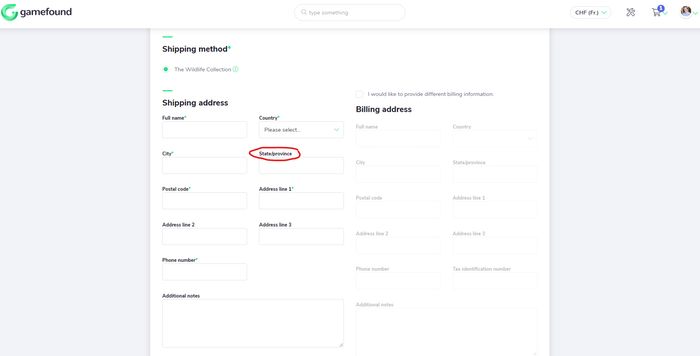 There are three things I want to mention regarding your shipping address…
1) State/Province: You only need to fill out this field if you are from Canada, Australia or USA. I.e. Germany/Switzerland etc. can simply leave this field blank, we do not need to know your "Bundesland" or your "Kanton".
2) Name/address lines: Most shipping companies only allow 35 characters (including spaces) per line, so if you have a really long address and any word can be abbreviated, please do so. Otherwise I have to do it. And most probably I don't speak your language :P (XD)
3) Comments for the postman do not belong in the "Additional notes" field, we cannot print them on the package. If you have a door code, please write it in the third address field e.g. Door Code:XXXX.
And that's it :) easy, right?!
I found an interesting video about the Sumatran Rhino, which is shown in our Endangered Species Puzzle. Unfortunately, this species is incredibly rare and is really close to extinction. I truly hope that we can keep this amazing species alive.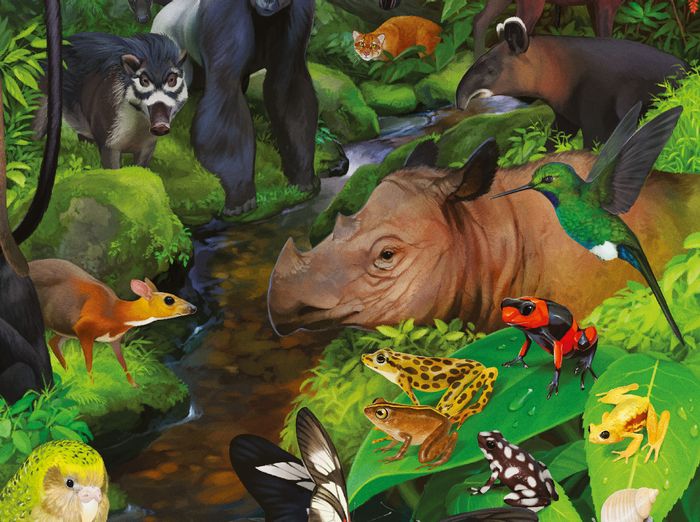 Especially the eyes of these gentle giants are incredibly sweet. They are sooo cute :D
Have a great week and you will hear from me again in the next few days, when I can finally send the Pledge Manager.
With best regards,
Marc and Samuel
Back