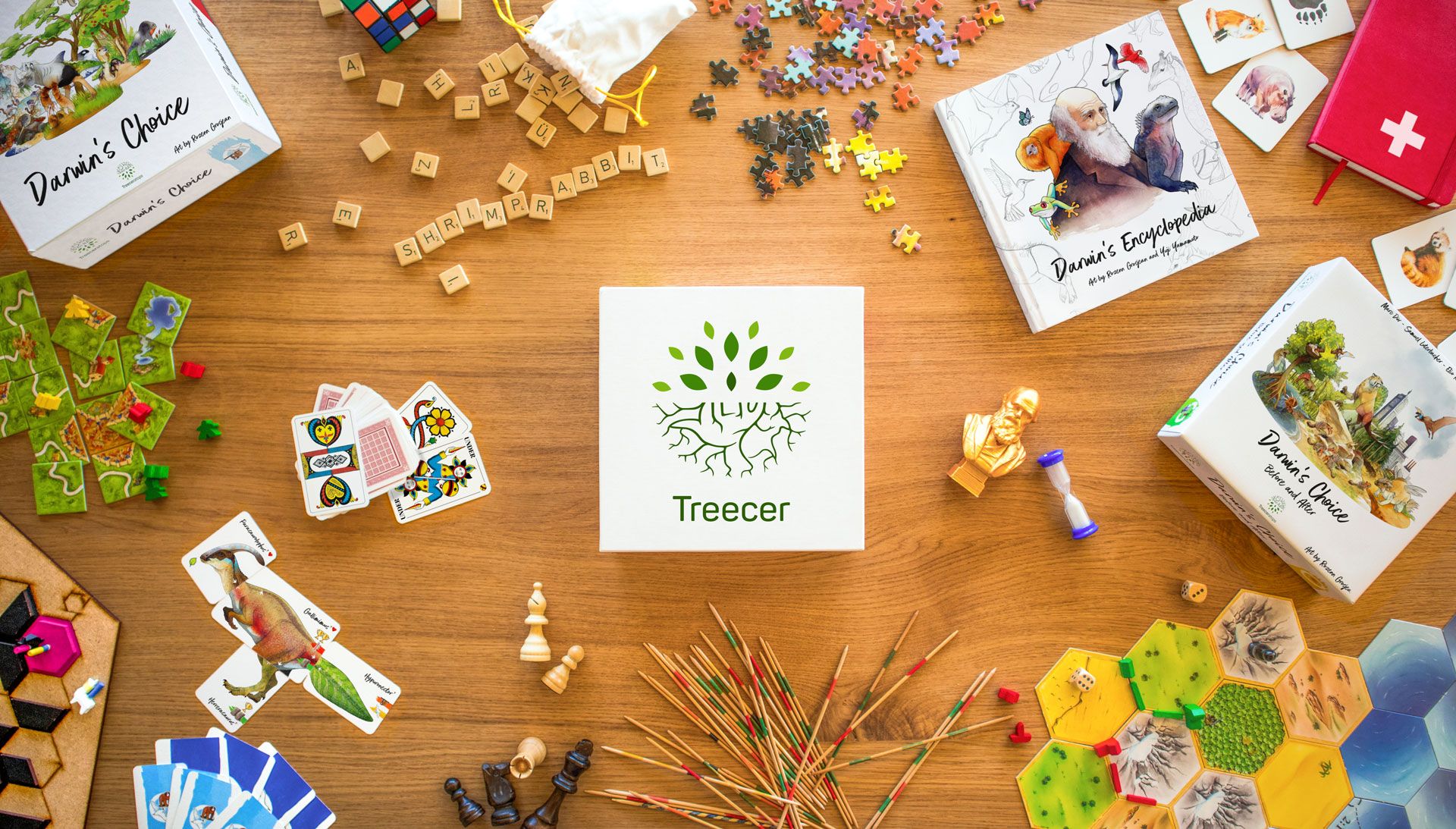 News
Important update: Production delay
26. May 2020
Summary: Please read the full update :)
Hi Everyone,
I know, it's an unusual day for a weekly update, but I think that special situations require special solutions. Today at 13:00 Frank Jäger, our contact person at Ludofact, contacted me and informed me that our production has been postponed and will (with the state of knowledge today) take place at the beginning of June. I think no one can explain this better than Frank himself, because this problem is truly beyond our control.
Dear backers of Darwin's Choice,
that I am addressing you directly gives you a hint that finally the global issue we all face has caught up with Darwin's Choice, too.
Who is talking? Let me first introduce myself: My name is Frank Jaeger. I am working for LUDO FACT in Germany, the factory that is currently producing Darwin's Choice. I am doing this job for over eleven years and look back on 25 years in the games industry. I have seen and lived through quite a few things. But a pandemic is something new.
What is happening? Let me start with the facts and then continue further down with more details, because this statement will probably be a little longer: Darwin's Choice has to be postponed. For four weeks. The reason is simply the paper. Unfortunately, this is nothing that Treecer could have seen coming, which is why it is me writing this, directly from the source. Last week I even checked schedules, found we were on track and gave Marc the thumbs up. But the paper for the playing cards did not arrive as scheduled, although we had the delivery date given by our supplier. After a call we found out that we won't get it before week 21 which means somewhere between May 18th and May 22nd. After that we have to print the cards, cut and pack them, send them over for assembly and assemble the games. I expect this to happen during week 23 which means between June 2nd and June 5th.
How can paper be an issue, isn't that a common commodity for LUDO FACT? Yes, you are right, it is. But two things play a role in this. The first is the situation of the games industry in general which is actually extremely good. People have to stay home and what do they do? They play games and pass their time with jigsaw puzzles. So we are absolutely full here at LUDO FACT, and it is not only us. We talk to our competitors, too, and right now we are all facing the same problem. A luxury problem to have, indeed, but still a problem because we have annual plans on volume of paper that we guarantee the paper suppliers to take in each month. Since March through May, sometimes June, is off-season, those volumes are not sufficient for the suddenly increased demand. We are currently producing between 50000 and 70000 games and puzzles per day – that is our maximum output even during the main season.
Well, then order more paper! That is the other bit of the problem. The Covid-19 situation takes a toll on almost every industry and hardly any is working at 100 per cent capacity. That includes the paper mills. They have to cope with higher demand for different types of paper and face some labor shortage, too. That is why paper supply is delayed.
To give you a better picture, let me explain how such a paper machine works. The factory starts producing a certain thickness and weight of paper. Let's say they start with 70gsm and when they have enough to fulfil demand for that type of paper, they increase one step to 80gsm, then to 90gsm, 100gsm, 115gsm and so on, until they reach the maximum. From there they go slowly down again to the minimum and the cycle starts all over. Such a cycle takes somewhere in the range of four week. Now, with increased demand and slower production due to worker shortage, this cycle is potentially a little bit longer. That is what we are caught in.
But you can surely get paper from somewhere! Yes, indeed. We could. But that does not help because we are talking about a game that is FSC-certified. That means that the paper, starting with the raw materials of wood coming from an FSC-certified source plus recycled paper, has to be accompanied by official documents along the way, from raw start to finish. So we cannot just use any paper because it lacks that paperwork. While all our paper generally comes from sustainable sources – the is no other form of forestry in Germany – without those documents we cannot guarantee it. And since this procedure is quite an effort, the FSC-documentation is not done for regular batches of paper. That means production is stopped until our specific batch of paper for Darwin's Choice is delivered.
But early June is guaranteed? Well, no. We can never actually guarantee a date weeks in advance. Accidents, fires, misprints, water damage, disappearing trucks (seriously, happened to me once) are things that we can never reckon with. Now, Covid-19 adds another uncertainty to it. We have the new delivery date from the paper factory, our sister company Höhn in the city of Ulm promises to print and pack the cards within a few days after it will have arrived, and Ludo Fact will schedule assembly as soon as humanly possible under the circumstances after the cards will have been delivered and passed the quality check. But a guarantee? I cannot give you that. No one can.
I am very sorry for the bad news. In any case, this is a situation where you may shoot the messenger. Or at least be angry with me and yell at me. My clients and friends from Treecer don't get to be blamed, they could only give you the information I provided. Until last Friday everything was shiny.
I apologize for the bad news. I hope this is the first and the last time I will have to address you.
Please be safe.
Frank Jaeger
LUDO FACT, Germany
First of all, a huge thank you to Frank for this long and detailed statement. He wrote this especially for us and we really appreciate that. Just today Ludofact had to postpone 20+ orders and many of them are much bigger than ours (Ludofact is the biggest board game producer in Europe). This "service", to write a full statement for a small startup like us, is really extraordinary.
So, what does this mean for you:
1) First of all, a big sorry, I really thought until today at 13:00 that we could start with the fulfillment next week (It really came out of nowhere, because I was in contact with Ludofact last week and everything seemed to be ready). Since I was organizing the whole fulfillment in the last days, I was really in a hurry, because I wanted everything to run as smoothly as possible. Now I'm ready, but have nothing to ship :)
2) I still expect that European backers will receive their games on time (as promised in the campaign) in June. But for backers in the USA/Canada/Asia/Oceania/ROW it will be July/August. If there is anything I can speed up, I will do it. I give my best.
3) What this means for us as a company (for our schedule etc.), I will explain in an update on Sunday.
Now I wish you a great week and if you have any questions, just contact me by mail (marc@treecer.com) or in the comments.
With best regards,
Marc, Elio and Samuel
Back