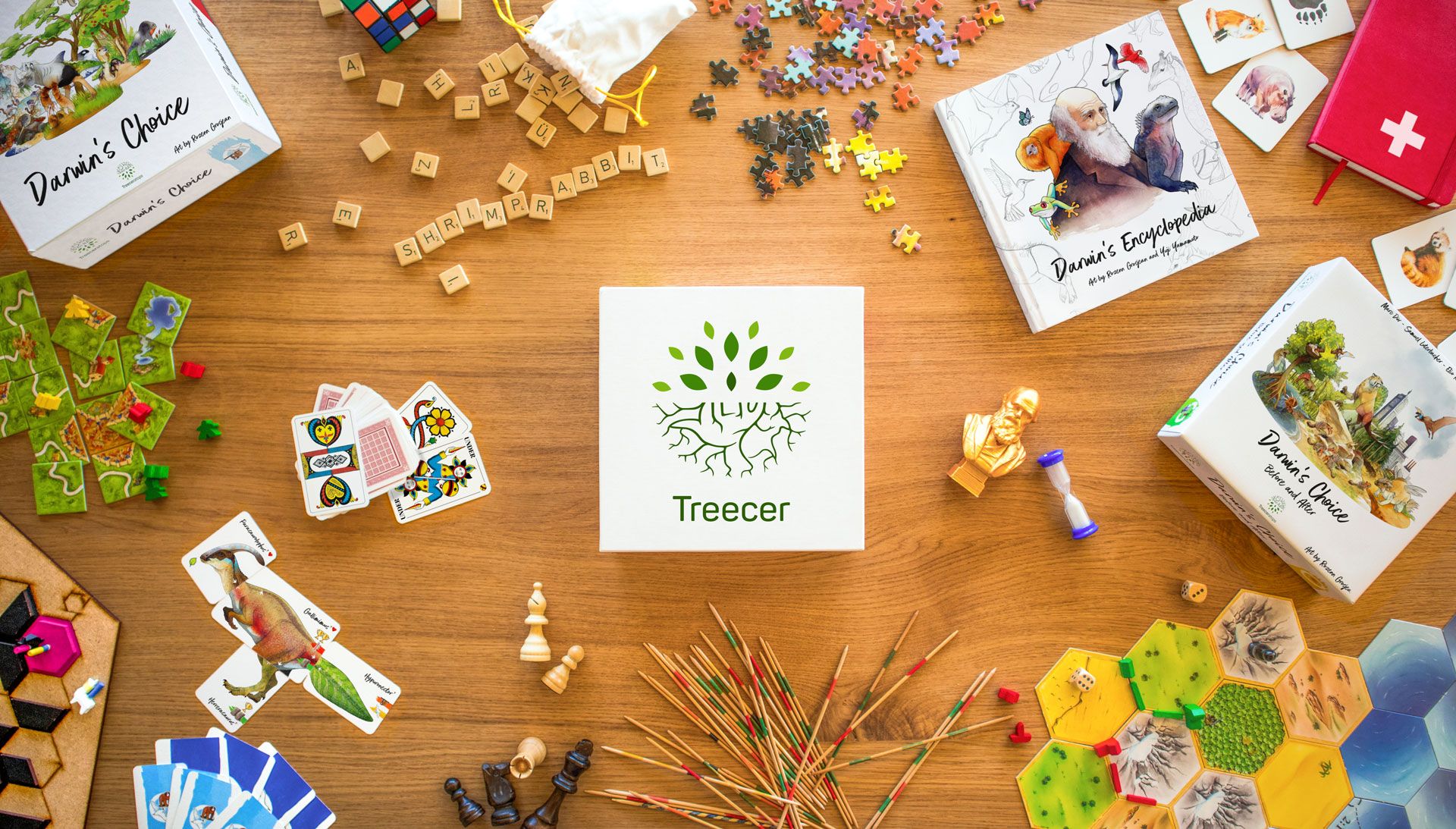 News
TWC Week 14: Fulfillment Update / Two Announcements
19. Oktober 2020
Hi Everyone,
Did you have a nice weekend? :) I hope you are healthy and happy. All over Europe the numbers of Covid-19 are rising again, which is a bit scary. But since Samuel and I work like crazy all the time anyway, we do not notice any of the new restrictions.
First to the Fulfillment :)
1) The pallets to the USA/Canada are on their way, the same is true for the big packages to Australia/New Zealand and Asia.
2) All European backers will receive their tracking number this week and will have their pledge in their hands within a short time.
3) We will prepare the Swiss packages this week, so by the end of the week or next week at the latest you will have your puzzles in your mailbox or in front of your door :) The same goes for all ROW packages, which will be sent soon, but will be on the road a bit longer than the Swiss packages.
That means we are fully on schedule and I am very much looking forward to your first feedback/comments.
Then I would like to announce something else. We have the plan to start our next Kickstarter campaign (a new board game) on November 2nd (at 14:00 CET) and I would like to say a few words to you regarding this new campaign. We have an internal policy that we will only start a new Kickstarter campaign if these three criteria are met for the previous campaign…
1) The production is 100% completed. For the puzzles this has been the case for several weeks.
2) All pallets or shipments to the Fulfillment Centers in USA/Australia/Asia are on their way. As described above, this is also the case.
3) The first backers have received their pledge, report about it publicly in the comments and there are no production defects. This has not happened yet, but I am 100% sure that before November 2nd a large part of our backers will have their pledge in their hands. Should this not be the case, contrary to all expectations, we will not launch the campaign until this 3rd criterion is also met.
I hope that under these conditions it is o.k. for you to launch a new KS campaign on November 2nd, which is of course also economically important for us. It is also clear that until the last backer has received his pledge, we will write weekly updates here, answer your questions within 24 hours etc. So, this campaign will not be disadvantaged in any way by the new project. That we can keep this, we have just shown with our previous campaign, which also overlapped with this campaign.
Now to our new project :) Our latest creation is called "P'achakuna" ("Textiles" in Quechua, the language of the Andes) and is a smart strategic game for two players. In the game you use small wooden llamas to transport resources from village to village and for this you have to strategically reshape the modular game board. For "P'achakuna" we are working together with the Swiss foundation Suyana, which organizes/finances many social projects in the rural areas of Peru and Bolivia. In the campaign backers will be able to pledge for little plush llamas to directly support Suyana. In addition, each game will contain a Kickstarter exclusive, handmade fabric bag, which will be produced in Bolivia from fabric made in Bolivia. The sewers will be paid fairly, and the game will be produced as sustainable as possible. Of course, we would be especially happy to welcome you again on board of one of our KS campaigns, this would mean a lot to us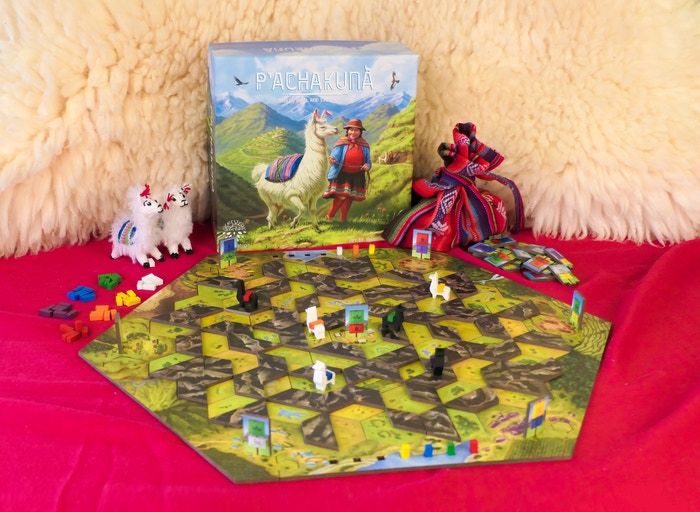 The game, the hand-made bag and the plush llamas :)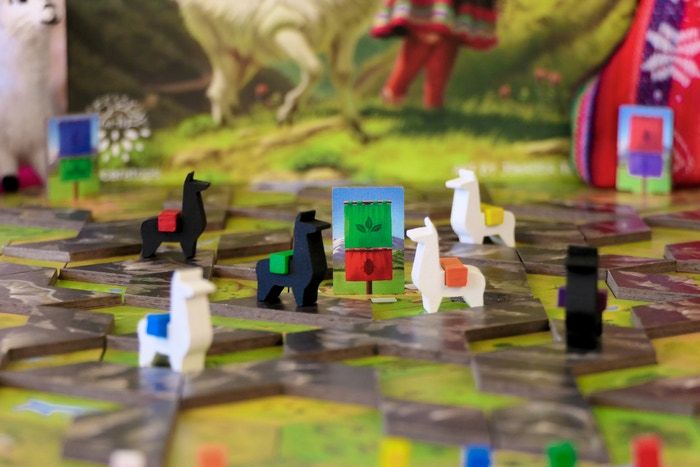 The small llamas are so cute :D
If you want to know how the game works, here is a short rule explanation video that we produced today :)
And then I even have a second announcement to make :D Next week Rozenn Grosjean, the fabulous artist who illustrated Darwin's Choice, will launch her first Kickstarter campaign "The Magpie's Lenormand", a magnificent tarot card deck with beautifully illustrated cards (all by hand ofc). As Rozenn has become a really good friend through our long cooperation, we voluntarily assist her with the campaign and help her with the fulfillment/production process. If you want to support Rozenn, her Kickstarter campaign will go live on October 27th and on Rozenn's WEBSITE you will find even more beautiful pictures and you can sign up for a reminder on launch day.
Beautiful :) this is the typical "Rozenn look"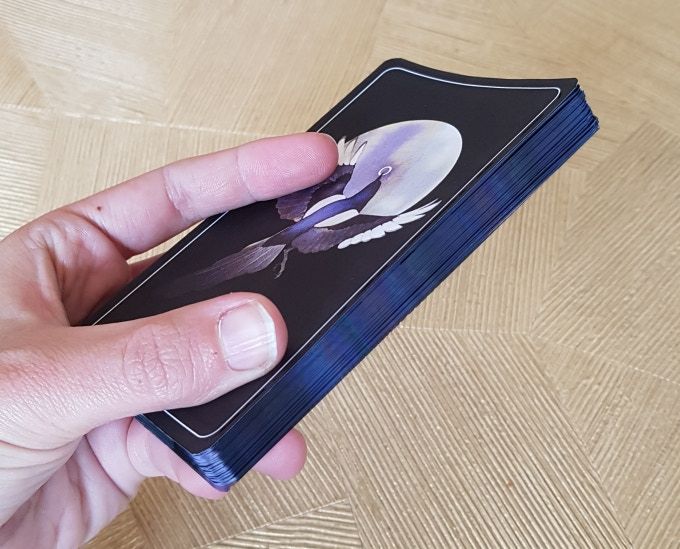 Metallic blue edge gilding, very nice :)

So, enough announcements :) thanks for reading and if you have any questions you know where to find me. Have a great evening.
With best regards,
Marc and Samuel
PS: You want an animal video? No problem xD here is a funny one about PENGUINS, they are so gross XD (I don't link the video directly here, because the thumbnail is a bit gross and wouldn't fit with the beautiful work of Rozenn ;)
Zurück